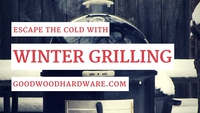 Escape the Cold with Winter Grilling: 5 Tips for Successful Grilling in Chilly Weather
Even though Punxsutawney Phil predicted Spring will be here in a few short weeks - right now it's still feeling like Winter. As we face the cold weather, Goodwood Hardware knows one way to keep our spirits thinking of Spring - Clearing off the grill! Just because it's chilly out doesn't mean grilling time is over. Grilling is a year-round event and here at Goodwood Hardware, we love the ritual and excitement of bundling up and then firing up.
The latest Weber GrillWatch™ survey reveals that plenty of people share my same passion for winter grilling. More than half of American grill owners grill all year round and a whopping 37 percent keep on grilling when the temperature dips below freezing. Therefore, we thought it would be appropriate to share my top five tips for successful winter grilling.
Pave the Way
Make sure you clear a path to your grill and remove all snow and ice before ignition—the weather alone will lower the temperatures inside the grill, so any additional snow will just add to this problem. Also, make sure there is ample room around the grill for you to move freely and give your grill enough time to pre-heat. In below freezing temperatures, the pre-heating process could take up to twice the time, so plan accordingly.
Cold Temps = More Heat
Charcoal lovers should always be prepared with extra briquettes in cold weather. Grilling time may need to be extended or the grill may need a little extra fuel to reach the right temperature, so add briquettes when necessary. Gas grillers have it a little easier, but just remember to position the grill at a 90 degree to the wind. This will help control the temperature inside the grill even throughout gusty cooking hours.
Patience Pays Off
Through freezing temperatures and high winds, your Weber grill still knows how to get the job done, so be patient even if it's taking a little longer in cold weather. Winter temperatures aside, it's always a good idea to use a meat thermometer to make sure you food is grilled properly and to perfection.
Never Grill Inside
No matter the weather—snow, rain, sleet, wind—never grill inside your garage or under an overhang. Grilling safely is always the best policy, so be sure your grill is at least five feet away from all combustible materials and in a well ventilated area.
Grill With the Lid Closed
Remember to grill with the lid closed. Grilling when the temperature is below freezing will lead to longer cooking times and the more you open the lid, the longer your food will take.
Bundle Up!
Make sure you're decked out in all your best cold-weather clothing. I know your grill may be warm, but bundle up, and remember to avoid any scarfs, tassels or other clothing items that could come in contact with the grill during use! Your hands, feet, ears, and face will thank you later.
Goodwood Hardware carries the Weber Smokey Mountain Smoker 14", 18" and 22". The Weber Smokey Mountain Cooker Smoker slow cooks roasts, turkeys, hams, and whole fish. Features include a porcelain-enameled bowl, lid and water pan with a large cooking area, a new lid thermometer, four no-rust aluminum vents, two plated-steel cooking grates and a no-rust aluminum fuel door. Additional features include:
Porcelain-enameled bowl and lid
Two plated steel cooking grates
Steel charcoal grate
Porcelain-enameled water pan and charcoal chamber
Total cooking area (square inches): 286
Built-in lid thermometer
Rust-resistant aluminum fuel door
Premium-grade cover included
Owner's guide
Limited warranty
Silicone Temperature Grommet